On sale this month! In digital Dec. 1st!

"The … hero is perfection."--RT Book Reviews


HARLEQUIN HERO
of the
YEAR
SEMIFINALIST!
4 Stars!
"A fantastic match!"-
RT Book Reviews
The book that
started it all . . .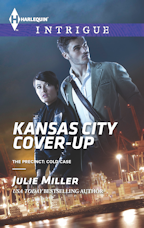 "A fast-paced, action-packed novel that sizzles from page one."-FreshFiction.com

"
#1 AMAZON BESTSELLER!
PUBLISHER'S WEEKLY BESTSELLER!


Harlequin Enterprises Ltd. © 2014
4 STARS!
Fast-paced action, explosive chemistry" -RT Book Reviews
| | |
| --- | --- |
| | |
| | |
| --- | --- |
| | |
Dear Readers,
You know I'm a Kansas City girl, so I've got to say it… Go, Royals! I'm so proud of my team to make it to the World Series. Now if I could only get a ticket to one of the games…

I want to start off by thanking all of my readers and friends who voted for 2 of my Intrigue heroes, Max Krolikowski and Charlie Nash, in Harlequin's Harlequin Hero of the Year Contest! I was honored to have 2 of my big, bad protector heroes be nominated, and super excited to see Max make it to the semi-finals. Unfortunately, he didn't win. (At the time of this letter, the winner hasn't yet been announced) But how exciting to know that readers are loving my heroes as much as I do! Thank you!

I also have some new release news to share. First, the book I just turned in has been titled APB: BABY, and will be out in June 2016. APB: BABY will be the first in a brand new 4-book miniseries called The Precinct: Bachelors in Blue. For those of you new to Julie Miller books, or maybe just looking for a bargain, I'm also excited to announce that 2 of my Precinct: S.W.A.T. titles, PROTECTING PLAIN JANE and PROTECTING THE PREGNANT WITNESS have been selected for a special program called "Harlequin Classics". Those two books (featuring an all-time favorite hero of mine—Trip Jones!) will be released in a single volume in February 2016.

Finally, I hope you're as excited as I am to have a new book out THIS month! KANSAS CITY CONFESSIONS, the thrilling, holiday-themed conclusion to my Precinct: Cold Case miniseries hits the shelves on November 17th. For you digital readers, it'll be available December 1st. RT Book Reviews says my hero is "perfection." I'm blushing. ;) If you haven't ordered your copy yet, do it now before they all disappear! You can read a new excerpt from KANSAS CITY CONFESSIONS on my Contests & Fun Page. And, as an enrichment bonus, I'm giving away a backlist story, SEARCH AND SEIZURE, where Trent and Katie, the hero and heroine of KANSAS CITY CONFESSIONS, first appeared as teenagers. Check out my monthly Book GiveAway for more details.
Julie Miller at RWA withBarb Han, RayAnne Thayne, Debra Webb, B.J. Daniels, Julie Miller, Carol Ericson & Delores Fossen

"Amazon Bestseller in Military Romance!"