Released in print Nov. 17, in in Digital Dec. 1!
ON SALE NOW!
4 Stars!
"A fantastic match!"-
RT Book Reviews
The book that
started it all . . .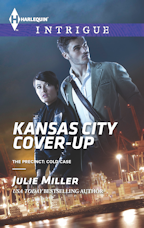 "A fast-paced, action-packed novel that sizzles from page one."-FreshFiction.com

"
#1 AMAZON BESTSELLER!
PUBLISHER'S WEEKLY BESTSELLER!


Harlequin Enterprises Ltd. © 2014
4 STARS!
Fast-paced action, explosive chemistry" -RT Book Reviews
BAD GIRL
Romance Writers of America
2015 RITA Finalist
Contemporary Romance: Short

Dear Readers,
Has the coolness of autumn touched your part of the world yet? We're having a bit of Indian summer here… with an unusual amount of rain. Not what the farmers are looking for, I'm sure.

I'm also having a wonderful visit with my mom here for three weeks before I take her back to Missouri. She's been great about wanting "projects" to keep her busy while I write. Truly, my home has never looked so spotless (especially since the remodeling dust from this summer!). She's reading one of my books. We've put together puzzles and gone on a junk jaunt (think regional garage sale) and celebrated my son's birthday among other things. I've also finished up the first book in my Precinct: Bachelors in Blue miniseries which launches in June 2016. I just got the title from my editor—APB: BABY (I'd been calling it "Niall's Story" so knew it had to change <g>). I like it. What do you think?

Don't forget to check out my Contests & Fun Page for my newest Book GiveAway Contest. This month I'm giving away one early bird copy of my Nov. 17 release, KANSAS CITY CONFESSIONS—print or digital, winner's choice. Come back next month, too, when I'll be giving away a copy of SEARCH AND SEIZURE, the book where my KANSAS CITY CONFESSIONS hero and heroine, Det. Trent Dixon and KCPD Tech Consultant Katie Rinaldi, first met as teenagers.

You'll also find an excerpt from KANSAS CITY CONFESSIONS on my Contests & Fun page. I hope you enjoy it! And it's never too soon to pre-order a copy for your bookshelf or digital reader!

Julie Miller at RWA withBarb Han, RayAnne Thayne, Debra Webb, B.J. Daniels, Julie Miller, Carol Ericson & Delores Fossen

"Amazon Bestseller in Military Romance!"